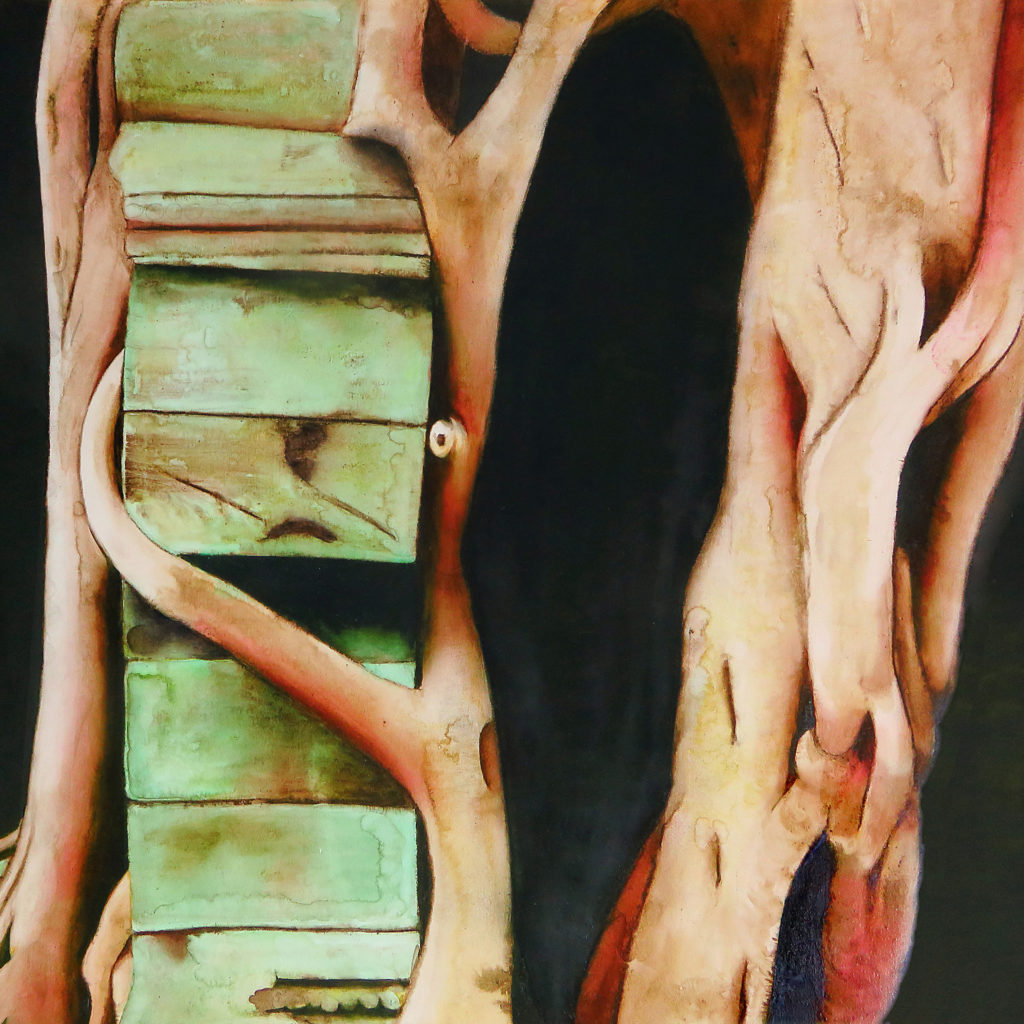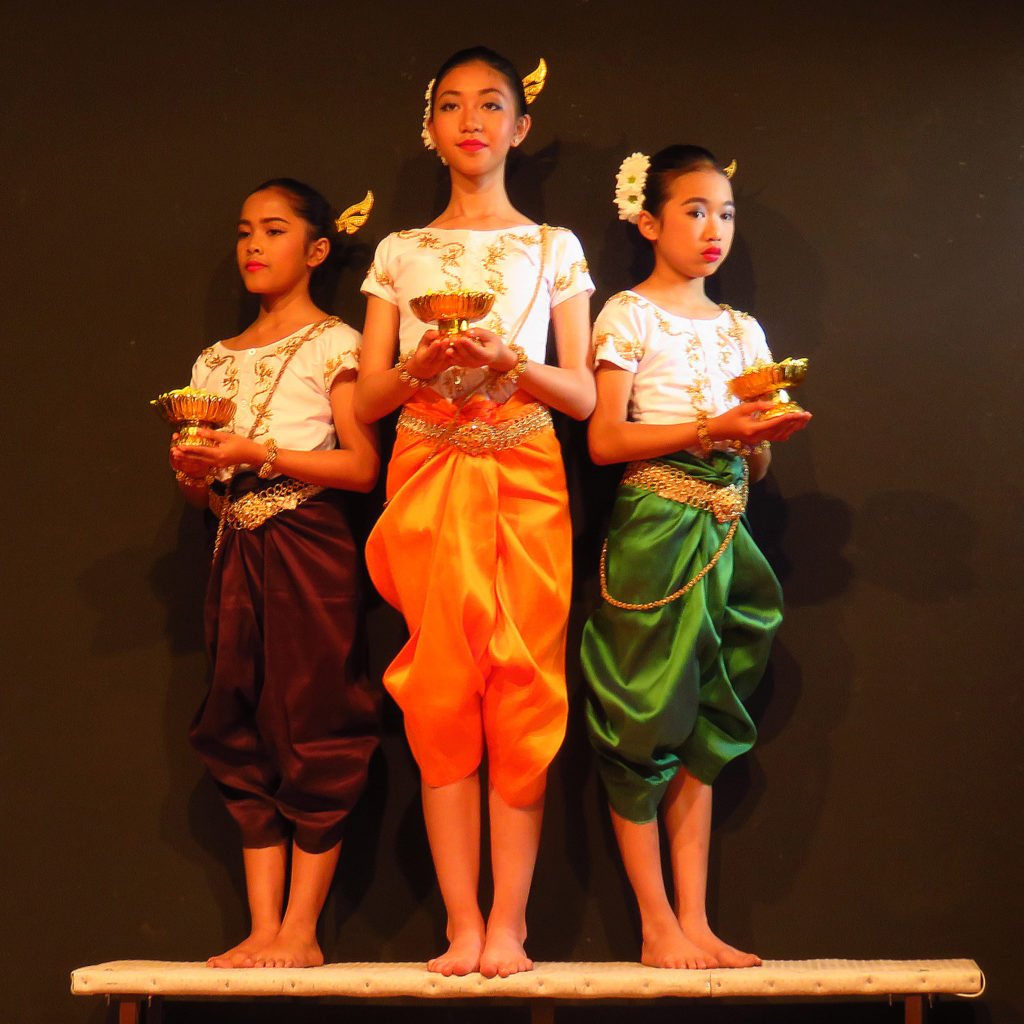 Maison du Cambodge, Paris
At the occasion of the celebration of 10 years A.I.R. Khmer.
Opening: 26 Mai 2018 at 4 PM. I show my series 'Angkor', in which I express how stones and vegetation struggle for light, air and space.
Défilez en bas pour voir le texte français
History
Cambodia became important for me in 1975, when I met Seang Ang Chin. He arrived in Washington DC with the last plane from Phnom Penh, before the country was taken over by the Red Khmer. In autumn of the same year I met his elder brother Suorng, who was a refugee in Paris.
Seang and Suorng were born and raised in Siem Reap, where the temples of Angkor are situated.
Suorng obtained his degree in medicine at the University of Phnom Penh in 1974 . He belonged to the last group of students who could finish their studies. His first year in Paris he worked as a male nurse in a hospital, where he met his wife Agnès. He specialised as a pulmonologist. Nineteen years later he returned to see his country.
Under his initiatives A.I.R. Khmer was founded in 2008. This association aims to help those who suffer from breathing insufficiency in Cambodia. At 26 Mai 2018 A.I.R. Khmer celebrates its 10 years existence.
The biggest religious monument in the world is Angkor in Cambodia. In 2017 I came into the possibility to see it. I explored the area mainly by bicycle. The temples are incredibly beautiful, especially where they are overgrown by massive trees, like in Ta Prohm and Beng Mealea.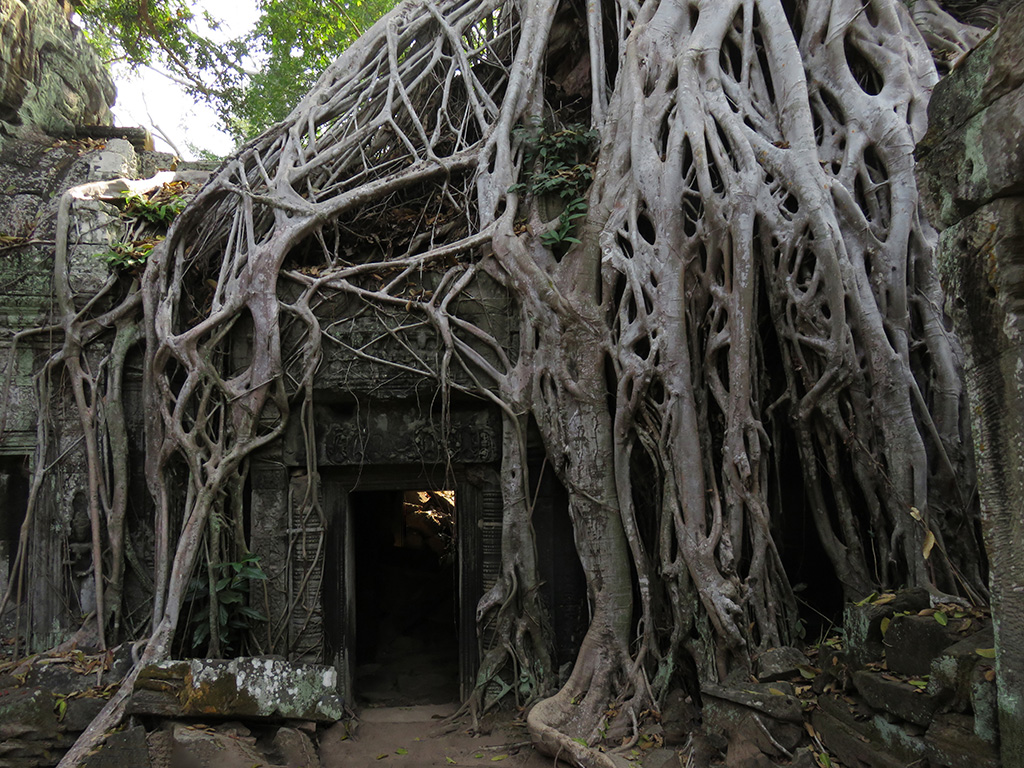 Ta Prohm
Back in the Netherlands I made a series of paintings about the temples that struggle with the jungle for air, light an space. On the occasion of the celebration of 10 years existence of A.I.R. Khmer I was invited by Suorng and Agnès to show these works in the exposition 'Angkor à Paris'.
Red Khmer
The rule of Red Khmer in Cambodia lasted from 16 April 1975 until 7 January 1979. This rule meant the termination of money, education, Buddhism and freedom of movement. Intellectuals were killed, all habitants of the cities were forced to work in the countryside. The parents of Seang and Suorng didn't survive the rule of the Red Khmer. Everybody in the country knows the expression 'three years, eight months and twenty days.'
In 1975 Cambodia was conquered / liberated by Vietnam, but the Red Khmer continued to make the country unsafe for at least ten more years. After 1990 Cambodia started to reconstruct little by little and opened back to the world.
The temples of Angkor
The temple complex of Angkor occupies 160 square kilometres and comprises more than a hundred archaeological constructions. Angkor was the historic capital of the Khmer Empire, and was constructed from the ninth until the thirteenth century. It was the cultural and spiritual heart of Cambodia. The empire of Angkor deteriorated when roads were constructed; the area started to suffer from enemy troops, as a consequence people left the area. The jungle overgrew the temples that remained hided for centuries, until they were kissed awake in the twentieth century.
__________________________________________________________________
Français
A l'occasion de la fête de 10 ans de l'Association A.I.R. Khmer (Aide aux Insuffisants Respiratoires du Cambodge) ma série ANGKOR est exposée à la
Maison du Cambodge à Paris (centre d'études pour les Cambodgiens).
Vernissage le samédi 26 Mai 2018, à 16H
Dans la série Angkor, j'exprime comment les pierres et la végétation luttent pour la lumière, l'air et l'espace.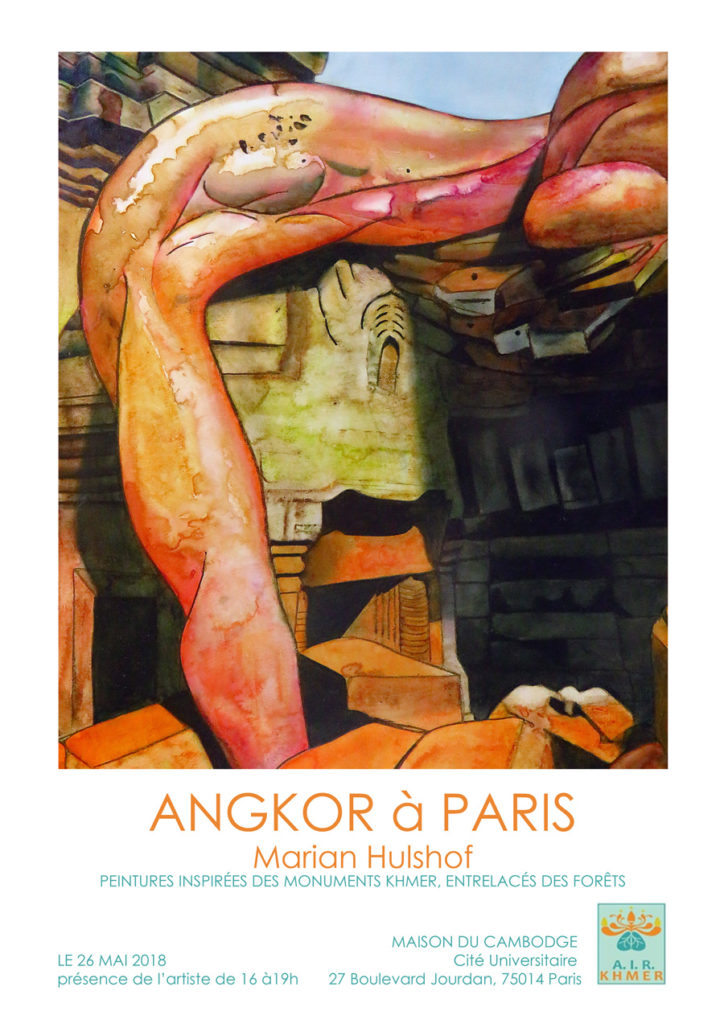 Histoire
Le Cambodge devenait important pour moi en 1975, quand j'ai rencontré Seang Ang Chin à Washington DC. Il y était arrivé comme réfugié avec le dernier avion qui a pu partir de l'aéroport de Phnom Penh. L'automne de la même année j'ai rencontré son frère ainé Suorng. Lui était refugié à Paris. Seang et Suorng sont nés et ont grandi à Siem Reap, dans le nord du Cambodge, où se trouvent les temples d'Angkor.
En 1974 Suorng à obtenu son diplôme de médecine à l'Université de Phnom Penh. Il faisait parti du dernier contingent d'étudiants qui ont pu terminer leurs études. La première année à Paris il assure sa propre subsistance en travaillant comme infirmier dans un hôpital, où il a rencontré sa femme Agnès. Il fait sa spécialisation comme médecin pneumologue. Dix-neuf ans plus tard il est retourné voir sa patrie.
Sous son impulsion l'association A.I.R. Khmer est fondée en 2008. Elle a pour but : « Aider les Insuffisants Respiratoires du Cambodge ». L'association est liée à l'Hôpital Universitaire AKS à Phnom Penh. En 2018 A.I.R Khmer célèbre sa fête de 10 ans dans la Maison du Cambodge à Paris.
Le plus grand monument religieux dans le monde est Angkor au Cambodge. En 2017 j'ai eu la possibilité de le voir. J'ai exploré la région à bicyclette. Les temples sont indiciblement beaux, surtout où ils sont envahis par la forêt vierge, comme Ta Prohm et Beng Mealea.
De retour aux Pays-Bas je me suis investie dans une série de peintures, inspirée par les temples qui luttent avec la forêt pour l'air, la lumière et l'espace. À l'occasion de la dixième anniversaire d'A.I.R. Khmer j'ai été invité par Suorng et Agnès de faire l'exposition 'Angkor à Paris'.
Khmer Rouge
Le règne du Khmer Rouge au Cambodge a duré du 16 avril 1975 au 7 janvier 1979. Ceci impliquait la fin de l'argent, de l'éducation, du Bouddhisme, et de la liberté de mouvement. Les intellectuels étaient assassinés, tous les habitants des villes étaient forcés de travailler dans les champs. Les parents des deux frères n'ont pas survécu au régime Khmer Rouge. Chacun dans le pays connaît l'expression « trois ans, huit mois en vingt jours ».
En 1979 le Cambodge etait libéré / vaincu par Vietnam, mais le Khmer Rouge continuait à rendre le pays dangereux pour au moins dix ans encore. Après 1990 le Cambodge commence à se reconstruire et petit à petit le pays redevient accessible aux étrangers.
Le complexe des temples d' Angkor
Le complexe des temples d'Angkor occupe 160 kilomètres carrés et comprend plus de cent bâtiments archéologiques. Il est la capitale historique de l'empire Khmer, construite du neuvième au treizième siècle, le cœur culturel et spirituel du Cambodge. L'empire amorce en déclin quand on construit des chemins; la région commence à souffrir de troupes ennemies et les habitants quittent la région. La forêt vierge prend possession des temples, qui restent cachés pendant des siècles et qui sont baisés éveillés au vingtième siècle.